Mobile
ContactOffice offers several possibilities to access your data on smartphones and tablets.
From the Apps (Mobile synchronization)

You access your e-mails, contacts and calendar through the native apps that are available on your smartphone or tablet. Example: the iPhone calendar. You will thus benefit of all the features included on your device (notifications, etc.).


Global synchronization: iPhone, iPad, Android (Samsung, etc.), BlackBerry, any Exchange-capable device. All your devices synchronize with each other thanks to ContactOffice. Available only with a paid subscription. Other: Windows Phone, Windows Mail, BlackBerry, Nokia, etc.
Tool synchronization: iPhone, iPad, Android, All devices compatible with IMAP/POP, SMTP, CalDAV, CardDAV.
On the Web

Per i navigatori di rete su palmari o smartphone (Pocket Explorer, Blazer, ecc.) è stato concepito un'interfaccia specifica.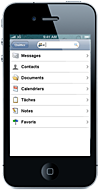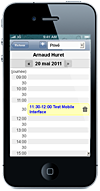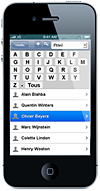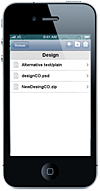 Combinations

You can combine different synchronization possibilities. For instance, you can:


Setup global synchronization of your personal data
Setup synchronization of a co-worker's calendar
Use the Web interface from time to time for specific needs. Example: send an e-mail with an attachment already stored in the Documents.